I am participating in
Foursons
new Friday tradition of "Letters of Intent". Such a fun idea. What's better than a fun way to vent? :-) ~ Happy Friday!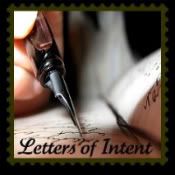 Dear Sony Laptop:
You are my best friend. I depend on you for daily living. A day without you is hard to survive. You hold my life: my photos, my school work, my emails, my facebook/myspace/twitter/blogspot (which are my very connection to so much of the world). Without you, I would not know what the girl I graduated with years ago but have not spoken to, is doing right this moment, Without you, I would not know that I forgot yesterday was Thankful Thursday. Without you, I could not have just completed all my school work for this week in my online class.
My dependency upon you means I have a huge amount of thankfulness for you and all you do for me. This appreciation means nothing to you. You repay me by shutting off at the very moment I have 5 screens up as I multitask my way through another day. When you do start back up, you take your time. You go slower than the snail out on my front porch. You find it humorous to prevent sounds from working right as a stumble upon my exercises for class that require hearing audio pieces to answer questions.
You take advantage of my love. You are so certain I would never give you up, that you test me daily.
Rest assured treasured friend, in the near future I will have the financial ability to replace you. I will desert you for a newer, younger, fancier model. You will be shut off for good! And then my friend, you will see how it feels to be let down.
Sincerely,
just-another-fed-up-user
P.s. I still appreciate that you continued to work after the day I tragically dropped you, leading to this life of duct tape. However, you could at least try to not break through the duct tape as soon as I rewrap you with fresh bandages.