I am joining in with Kmaman this morning for the stress relieving series, Thank you very much!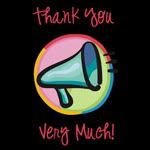 To my dearest 10 month old nephew who has just this week decided that a 30 minute nap in the morning is enough for him... thus leaving me worn out quicker... thank you very much!
To my oldest nephew for realizing teenagers have the answer to everything, and need not obey authority... you will realize soon enough that the rules we adults make are actually for your own good most of the time. And you will look back and realize you should've been a little less bossy... thank you very much!
To the swine flu, for sending my paranoia to a whole new level and causing me to check my temperature everytime a new "cold" symptom arrives... thank you very much!
To my husband's employer for not providing us with the insurance information in SEPTEMBER and causing us to be in a last minute unexpected frenzy of stress searching high and low for the best policy, just in time for the holiday season, thank you very much!
And to my self, that fell way too hard way too fast and lost focus on everything else in life but love, thus failing Spanish and wrecking my entire following 5 year plan... thank you very much!